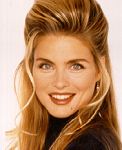 Supermodel Kim Alexis shares her thoughts on Self-Respect, Sex, Life, Abortion & Marriage
Kim Alexis is a world famous supermodel blessed with great insight and wisdom. Below, Kim shares her views on self-respect, sex, life and marriage.
Kim on Respecting Yourself and Saving Sex:
"When we are young, one of our most fragile emotions is self-respect. Remember that others treat you as they sense you treat yourself -- meaning -- if you feel really good about you, then others will naturally treat you with that same respect.
There are many ways that we try to gain self-respect or even hold on to what we have. By having sex before marriage we lose that self-respect. God gave us certain rules to live by so that we can be happy. Having sex before marriage causes pain and consequences ALWAYS. Young people need to realize that they should say "NO" to sex before marriage because it is wrong and causes serious consequences. One of these can be an unplanned pregnancy, and unfortunately, many women then make the wrong decision to have an abortion.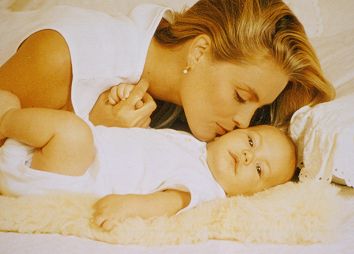 Photo: Kim with her baby.
In the Bible it says when two people are joined in marriage they become one. Part of the reason that they become one is the union of their bodies. Sharing your body with someone you don't know well -- or even with someone that you love very much, but are not married to -- is wrong because God says we should save the sex act for marriage. We all need to have a fear of doing wrong, a fear of God Almighty."
Kim on The Value of Life:
"I think that our whole country needs to have more love and compassion for all children. All life is valuable and a gift from God. Pregnancy is not something that "just happens." Pregnancy is a gift from God. I think it is God telling us "OK, you are responsible enough to raise this new young life that I, God, am going to give you." And for people who can't conceive children, God may be asking you for an even more generous response -- to adopt and raise a child."
Kim on The "M" Word -- Marriage:
"I realize that my marriage to my husband is precious and needs to be maintained. I have no desire to be unfaithful because I know that would be wrong, and that by being faithful, I stay away from alot of pain and suffering. My strong marriage, and my walk with the Lord, are the basis for my happiness. When I work on my marriage by giving my time and conversation to my husband, I find I am much happier and that this joy overflows into other relationships. It also enables me to have great relationships with my children and people at work.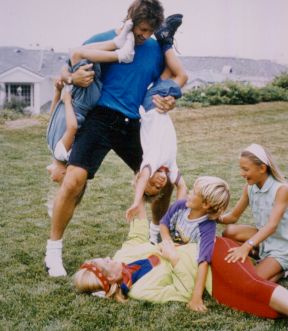 Photo: Kim and her husband playing with four of their children.
My husband has the qualities from Galatians 5:22; kindness, goodness, gentleness, self-control, and faithfulness. He also has a real love for children and strives for the truth in all situations. A healthy marriage needs God right in the center. Husbands, love your wives as you love yourselves, and wives, submit to your husbands.
My roles of wife and mother are way more important than my career. They come first. I think of them before I accept any job."
Kim Alexis Biography
Kim Alexis has graced the cover of over 500 magazines around the world as one of America's leading supermodels.
She was the Fashion Editor of "Good Morning America" for three years and currently hosts two of her own cable shows, "Healthy Kids" on the Family Channel and "Ticket to Adventure with Kim Alexis" on the Travel Channel. Kim also has her own radio spot called "Help For The Harried."
She has appeared as a guest star on the ABC television series, "The Commish," was in the final episode of "Cheers," and filmed a movie of the week for NBC called "Perry Mason: The Case of the Wicket Wives." Most recently she guest starred in the hit television show, "Hope and Gloria."
Kim and her husband Ron Duguay, a former NHL player, live in Southern California with their five children.
(Kim Alexis Photo Credits: Charles W. Bush)